Partnering together to help relieve the burden of Asthma in your home sanctuary
A New Generation of Asthma Friendly Cleaners
We're working to improve the burden of asthma by creating home cleaning products that effectively reduce asthma triggers without exposing you to toxic chemicals.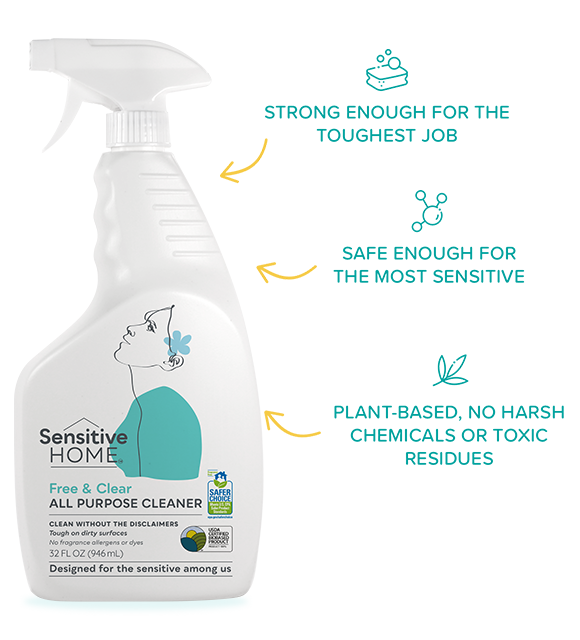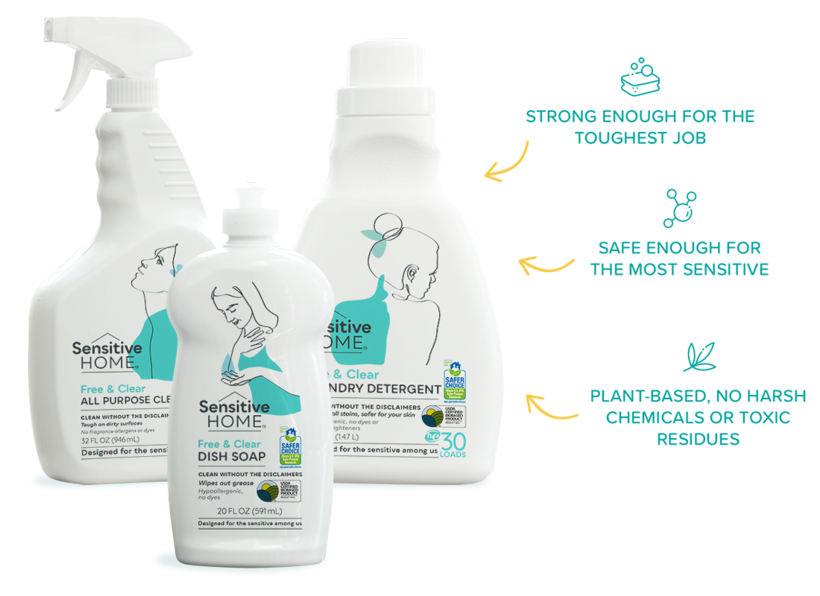 SAVE 20% WITH CODE: FAC20
Removing dirt is a given, making your space clean + safe is a first.
EWG 'A' Rated
Rated "A" by the Environmental Working Group guarantees there are no known irritants, harsh chemicals or toxic residues. Even 'natural' brands can't say that.
Safe for those with Asthma
Formulated over 8 years by Dr. Greg, our founder and cleaning scientist extraordinaire. We've eliminated cleaning solvent vapors that can trigger your asthma symptoms.
Strong enough for the toughest job
Independently tested to clean as well as leading green or mainstream brands with no need to ventilate your spaces while you clean.
"Having heard about the new Sensitive Home cleaning products that are designed specifically for people with allergies & sensitivities (my children suffer from asthma and allergies that are often triggered by cleaning products) via social media I ordered some to trial and they are fantastic. Our bathroom and kitchen are sparkling clean!"
"After suffering from chemical allergies for years, I'm beyond excited to find something that's truly safe and especially scent-free. There's no turning back for me! Love it!!!"
"After using your detergent, my daughter wasn't itchy for the first time in her life! So from the bottom of our hearts, Thank you! There will never be words to equal what my daughter and I experienced when we used your products."
Exclusively for our friends from the Florida Asthma Coalition -->
Save 20% with code FAC20
Eight years in the making, meet Sensitive Home.
We worked directly with the sensitive community to understand why current cleaning products caused discomfort. And after 8 years using extensive cleaning science, we created new better formulas that clean (for real) AND eliminate known irritants, harsh chemicals, and toxic residues that can trigger asthma, skin and other chemical and respiratory sensitivities.
LEARN ABOUT OUR SCIENCE
Meet the Florida Asthma Coalition
The FAC helps Floridians with asthma to achieve optimal health and quality of life by reducing the overall burden of asthma. We focus on minimizing the disproportionate impact of asthma in racial/ethnic and low-income populations, promote asthma awareness and disease prevention at the community level and expand and improve the quality of asthma education, management, and services through system and policy changes.
LEARN ABOUT OUR MISSION
Follow Sensitive Home on Instagram!