We've Raised the Bar on Safe Cleaning
Meet the first and only line of effective and safe household cleaners proven to eliminate chemicals and toxins that can compromise your health – especially for those among us with allergies, asthma, skin and chemical sensitivities.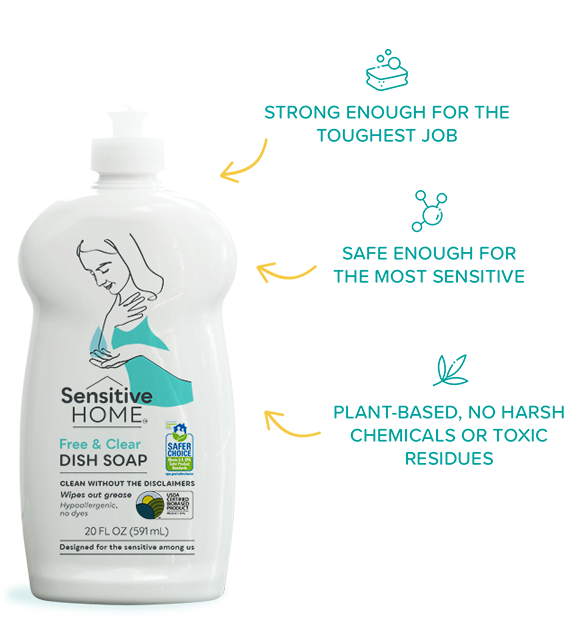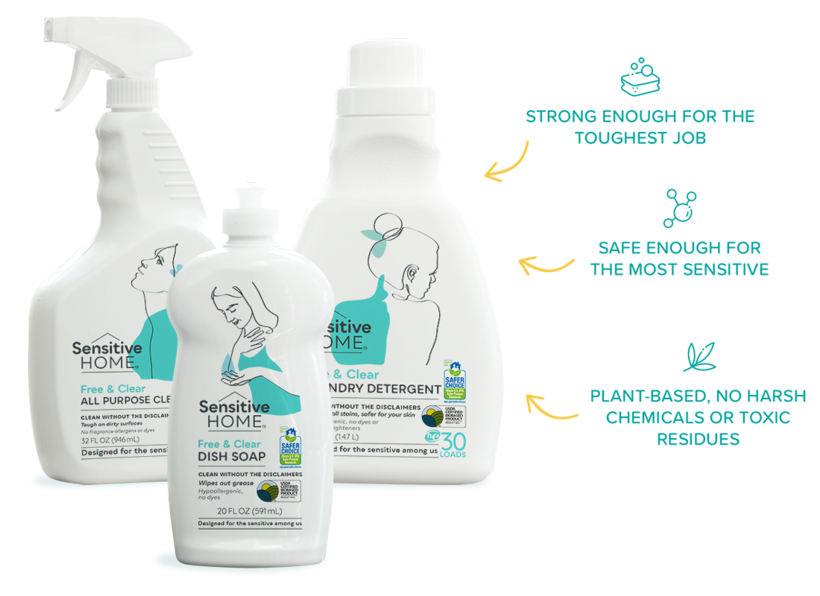 Discover Our Products
Removing dirt is a given, making your space clean + safe is a first.
Strong enough for the toughest job
Independently tested to work as well as leading green or mainstream brand.
Safe enough for the most sensitive
Formulated over 8 years by Dr. Greg (our founder and cleaning scientist extraordinaire). And patented from the molecule up.
EPA Safer Choice certified
No known irritants, harsh chemicals or toxic residues Even 'natural' cleaning brands can't say that.
Why Sensitive Home.
Many products claiming to be green, plant-based, and non-toxic still irritate the sensitive among us. And plenty more don't get the job done. Most so-called 'safe' products simply avoid toxic ingredients without replacing them with an effective substitute. We decided to take a new approach to cleaning science.
We started over.
Eight years in the making, welcome to Sensitive Home.
Working hand-in-hand with the sensitive community, we examined everyday cleaning ingredients to understand why they caused discomfort for the sensitive among us. We focused on creating new, better formulas that clean (for real), eliminating known irritants, harsh chemicals, and toxic residues. The result is our patented toolkit of well-tolerated ingredients and products with true cleaning power.
What our community is saying
"After using your detergent, my daughter wasn't itchy for the first time in her life! So from the bottom of our hearts, Thank you! There will never be words to equal what my daughter and I experienced when we used your products."
"Love these products! Got the All Purpose, Tub + Tile and Granite/Marble cleaners. Highly efficacious. No odor or irritation. I feel safer using them compared to traditional spray cleaners."
"After suffering from chemical allergies for years, I'm beyond excited to find something that's truly safe and especially scent-free. There's no turning back for me! Love it!!!"